Events
73rd Aviation Company (AS)(L) 50th Anniversary Reunion
If you have some to submit, please send them to Al Adcock IV
A reunion of the 73rd Aviation Company (AS)(L) was held at the Clarion Inn and Suites in Dothan, Alabama, on May 9th, 10th, and 11th, 2013. It commemorated the 50th anniversary of the activation and training of the unit at nearby Fort Rucker and its deployment to Vietnam in May 1963. Fifty four people attended, including former members of the unit, family members, and guests.
The evening of May 9th was dedicated to renewing old friendships and remembering events that happened so long ago in a faraway place. Some of the attendees had not seen each other since they left Vietnam many years ago. The war stories got better as the evening wore on.
On Friday, May 10th, the unit was warmly welcomed "home" to Fort Rucker by the Installation Commander, COL Stuart McRae, and the Mayor of Ozark, Alabama, Billy Blackwell. The attendees toured the Army Aviation Museum and some of the training facilities used to train the Army Aviators of today.
On Saturday, May 11th, there was a Remembrance Ceremony to honor six of our brothers who made the ultimate sacrifice so long ago and twenty one of our friends who have passed away since. The ceremony was culminated by a flyby followed by a static display of a beautifully restored O-1D Bird Dog belonging to the Army Aviation Heritage Foundation, of Hampton, Georgia. A banquet culminated the festivities. COL (USA Ret) John Kark, the eighty five year old first commander of the unit, was honored with a roast at the banquet.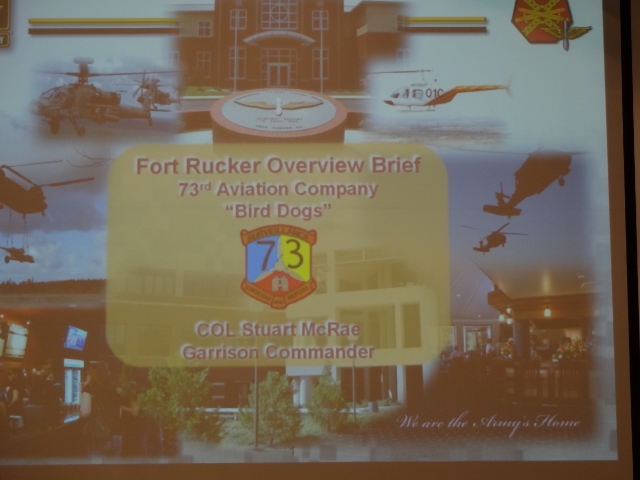 Many more pictures on the Reunion Page in the Gallery!